A cool and creamy sweet layered treat.
The name 'Arkansas Possum Pie' might strike fear into your heart, but rest assured it doesn't contain any actual possum. Rather, some people surmise that the name comes from the fact that the pie is pretending to be something its not – playing possum, if you will – by hiding a delicious layer of chocolate under plenty of whipped cream. (There's also a deliciously crunchy shortbread pecan crust to look forward to under those two layers!)
Yield 1 pie | 10m prep time | 15m cook time | 4h inactive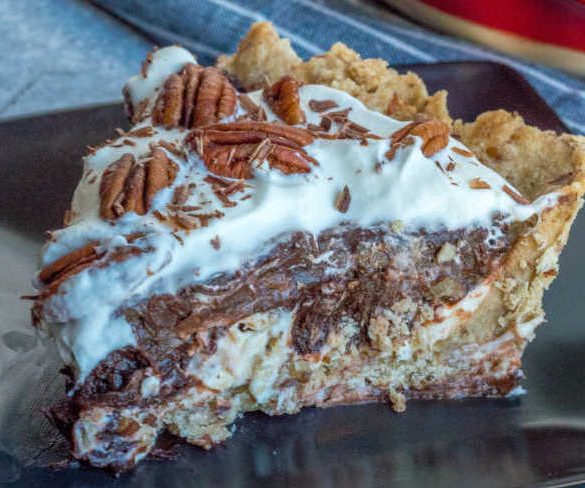 Ingredients
FOR THE CRUST:
1/2 cup (1 stick) butter, melted
1 cup all-purpose flour
3/4 cup pecans, finely chopped
1/4 cup brown sugar
FOR THE CREAM CHEESE LAYER:
8 oz cream cheese, at room temperature
2 tablespoons heavy cream
1/2 cup powdered sugar
FOR THE CHOCOLATE LAYER:
1 box instant chocolate pudding
1 box instant chocolate fudge pudding
1 3/4 cup milk
FOR THE TOPPING:
1/2 cup heavy cream
2 tablespoons powdered sugar
1/2 cup pecan halves
Instructions
Preheat the oven to 350°F.
In a medium bowl, stir together the melted butter, flour, pecans, and brown sugar.
Press mixture into the bottom and up the sides of a 9-inch pie pan and bake until crust begins to brown around the edges, 15-20 minutes. Let cool completely.
In a clean bowl, beat the cream cheese, 1/2 cup powdered sugar, and heavy cream with an electric mixer until smooth. Spread into cooled crust.
In a separate bowl, combine the pudding mixes and milk and allow to set for 5 minutes. Spread thickened pudding over cream cheese mixture and place in refrigerator to chill until set, at least 4 hours.
When ready to serve, make the topping by beating the heavy cream and powdered sugar until soft peaks form. Spread over chocolate pudding layer and top with pecans. Enjoy!