Don't worry, we'll explain how it's pronounced….
While we're still fully aboard the fudge train, making a point to try out as many varieties of the stuff as we can get our hands on, there's a slightly different version, a cousin to fudge, if you will, that we came across the other day. Penuche (pronounced: "peh-noo-chee") is visibly similar to fudge, but it's slightly lighter, because it's made with milk instead of heavy cream. Plus, it primarily uses brown sugar instead of white sugar, which gives it a rounder, more caramel or toffee-esque flavor that is absolutely addictive.
Serves 10 | 20 minutes active | 2+ hours inactive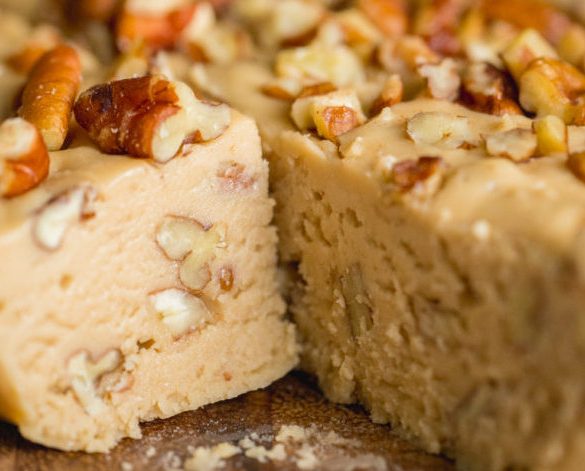 Ingredients
2 cups brown sugar
1 cup (2 sticks) unsalted butter
3 cups powdered sugar, sifted
1 (5 oz.) can evaporated milk
1 teaspoon vanilla extract
1/4 teaspoon salt
1 cup pecans or walnuts, roughly chopped
non-stick spray, as needed
Instructions
Grease a 9x5-inch loaf pan with non-stick spray, then line pan with parchment paper or plastic wrap.
Combine butter and brown sugar in a heavy-bottomed saucepan over medium-low heat until butter is melted and sugar has dissolved. 2-3 minutes.
Pour in evaporated milk and bring mixture to a boil, then remove from heat and let cool for 30 minutes, or until cooled to the touch.
Stir in vanilla extract and salt until combined, then, working in batches, beat in powdered sugar.
Once sugar is incorporated, fold in chopped nuts, then transfer mixture to greased and lined loaf dish.
Refrigerate, uncovered, for 20-25 minutes, or until set, then slice, serve and enjoy.