Light and fluffy unbaked cheesecake. Very fast and easy to make. Husband refuses to eat baked cheesecake after eating this!
My family has made a very similar recipe for years. Only change is instead of powdered sugar or heavy cream we use 1 can of sweetened condensed milk to fill the place of both. We also add 1/4 c lemon juice to make it perfect. It's a birthday favorite every year!
So easy and sooo good. If you are a cheesecake lover you must try this. It's lighter and fluffier than baked cheesecake. I used a prepared "light" graham cracker crust from the store and 1/3 less fat cream cheese to save some calories. Unfortunately it is so good that I have eaten a slice every day since I made it! My fiance loves it too and he's not a big cheesecake lover.
Prep: 30 mins | Additional: 2 hrs | Total: 2 hrs 30 mins | Servings: 12 | Yield: 1 cheesecake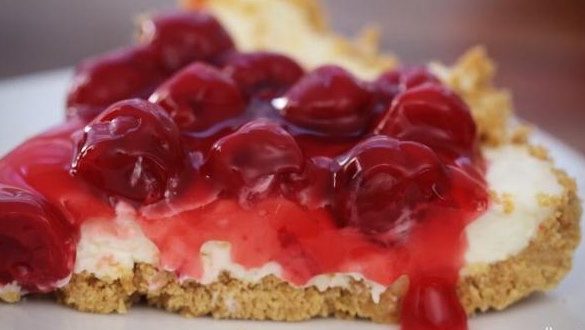 Ingredients
Graham Cracker Crust
1 ¼ cups graham cracker crumbs
¼ cup margarine, softened
¼ cup sugar
Filling
1 (8 ounce) package cream cheese
1 cup powdered sugar
1 teaspoon vanilla extract
1 cup heavy cream, whipped
1 (12.5 ounce) can cherry pie filling (or other filling of your choice)
Instructions
Step 1
Mix together graham cracker crumbs, margarine, and sugar in a bowl until well incorporated and crumbly. Press into a pie plate, going up the sides as much as possible.
Step 2
Beat together the cream cheese, sugar, and vanilla in a bowl until smooth and spreadable. Whisk whipped cream into cream cheese mixture until smooth. Pour cream cheese into prepared crust. Smooth the top with a spatula, and refrigerate until firm, about 2 to 3 hours. Spread the cherry pie filling over the top, and refrigerate until serving.
Nutrition Facts
Per Serving:
296 calories; protein 2.6g 5% DV; carbohydrates 30.7g 10% DV; fat 18.5g 29% DV; cholesterol 47.7mg 16% DV; sodium 165mg 7% DV.