An old favorite with the added goodness of gooey chocolate chips and coconut to make a delicious snack for lunch time.
Prep: 20 mins
Cook: 10 mins
Additional: 30 mins
Total: 1 hr
Servings: 24
Yield: 2 dozen cookies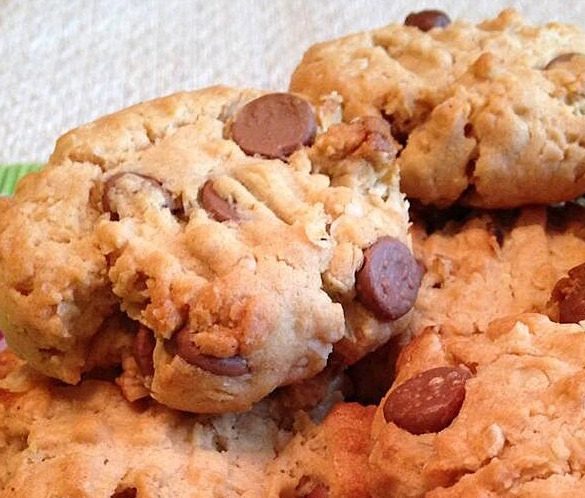 Ingredients
2 cups all-purpose flour
2 teaspoons baking powder
½ teaspoon baking soda
½ cup butter, softened
½ cup peanut butter
½ cup brown sugar
½ cup white sugar
2 eggs
1 cup quick-cooking oats
½ cup shredded coconut
½ cup chocolate chips
Instructions
Step 1
Preheat oven to 375 degrees F (190 degrees C). Line are large baking sheet with parchment paper.
Step 2
Whisk flour, baking powder, and baking soda together in a bowl.
Step 3
Beat butter, peanut butter, brown sugar, and white sugar together in a bowl using an electric mixer until smooth. Beat eggs, 1 at a time, into butter mixture, beating well after each addition, until smooth and creamy.
Step 4
Stir oats into butter mixture until incorporated. Stir coconut into butter mixture until incorporated; fold in chocolate chips. Stir butter mixture into flour mixture until dough is smooth.
Step 5
Roll about 1 tablespoon dough per cookie in your hands and arrange balls on baking sheet about 2 inches apart. Press each ball with a flour-coated fork to flatten dough.
Step 6
Bake in the preheated oven until lightly browned, about 10 minutes. Cool cookies on baking sheet for about 5 minutes before transferring to a wire rack to cool completely.
Nutrition Facts
Per Serving:
180 calories; protein 3.6g 7% DV; carbohydrates 23.2g 8% DV; fat 8.7g 13% DV; cholesterol 25.7mg 9% DV; sodium 132.5mg 5% DV.