These are technically Mexican Wedding Cakes or Russian Teacakes, but my grandmother gave up on us calling them that years ago!
Prep: 30 mins
Cook: 15 mins
Total: 45 mins
Servings: 30
Yield: 5 dozen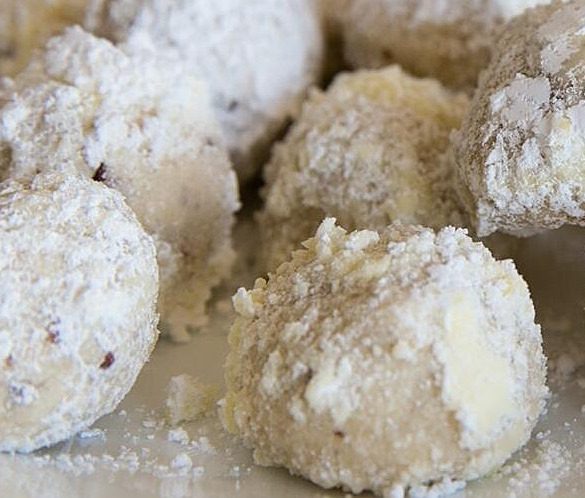 Ingredients
1 cup butter
½ cup confectioners' sugar
¼ teaspoon salt
1 teaspoon vanilla extract
2 ¼ cups all-purpose flour
1 cup chopped pecans
⅓ cup confectioners' sugar for dusting, or as needed
¼ cup finely crushed peppermint candy canes
Instructions
Step 1
Preheat oven to 350 degrees F (175 degrees C).
Step 2
Cream the butter with 1/2 cup of the confectioners' sugar and the vanilla. Mix in the flour, pecans, and salt. Roll about 1 tablespoon or so of dough into balls and place on an ungreased cookie sheet.
Step 3
Bake in preheated oven until bottoms are golden, about 15 minutes. Do not allow these cookies to get too brown: it's better to undercook them than to overcook them. While cookies are still hot, roll them in confectioners' sugar. Once they have cooled, roll them in confectioners' sugar once more.
Notes
Variation: sometimes for Christmas, Grandma would also add some crushed candy canes. Add finely crushed candy canes to the confectioners' sugar used for the final dusting.
Nutrition Facts
Per Serving:
135 calories; protein 1.4g 3% DV; carbohydrates 13g 4% DV; fat 8.8g 14% DV; cholesterol 16.3mg 5% DV; sodium 64mg 3% DV.