A dear friend shared her version of 24 hour salad with me. Hope you enjoy it as much as we do!
This is the same recipe that my mom and I use for special occasions. We use grated cheddar cheese and for the seasonings that somone missed in the previous review, we mix an envelope of Hidden Valley Ranch dressing mix with 1 Cup Mayonaisse and 1 Cup Sour Cream. It makes all the difference in flavor. This is really a great salad!
Prep: 20 mins | Cook: 10 mins | Additional: 1 day | Total: 1 day | Servings: 12 | Yield: 12 servings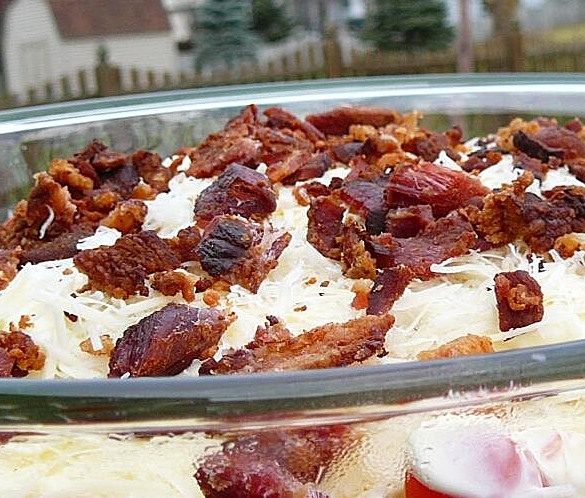 Ingredients
¾ pound sliced bacon
1 large head iceberg lettuce, shredded
¼ cup sliced onion
¼ cup thinly sliced celery
1 (8 ounce) can water chestnuts, drained and sliced
1 (10 ounce) package frozen peas
1 cup mayonnaise, or to taste
1 tablespoon white sugar
2 tablespoons grated Romano or Parmesan cheese
4 tomatoes, cut into wedges
2 hard-cooked eggs, sliced
1 tablespoon chopped fresh parsley for garnish
Instructions
feSpread the lettuce out on a large serving dish or bowl. Sprinkle the onion, celery, water chestnuts and frozen peas (unthawed) over the lettuce in layers. Spread mayonnaise over the top like a frosting. Sprinkle with sugar and grated cheese. Cover and refrigerate overnight.
Step 2
Place bacon in a large, deep skillet. Cook over medium-high heat until evenly brown. Drain, crumble and set aside.
Step 3
Before serving, sprinkle crumbled bacon over the top, and garnish with tomato wedges, slices of hard-cooked egg, and parsley.
Nutrition Facts
Per Serving:
249 calories; protein 7.5g 15% DV; carbohydrates 11.3g 4% DV; fat 19.9g 31% DV; cholesterol 49.6mg 17% DV; sodium 385.7mg 15% DV.