My mom (aka best cook in the world) made these cookies for years. She made them every Christmas (along with many other cookies) and for special occasions. They are my absolute favorites. When mom moved into Assisted Living a few years ago, her Christmas cookie recipes were part of the "treasures" that she passed on to me. So now, the week before Christmas, mom comes over and "we" make the cookies together. I think she enjoys her new supervisory roll. Maple Twists are a bit labor intensive but, trust me, they are soooooooo worth it.
Serves: makes 48 cookies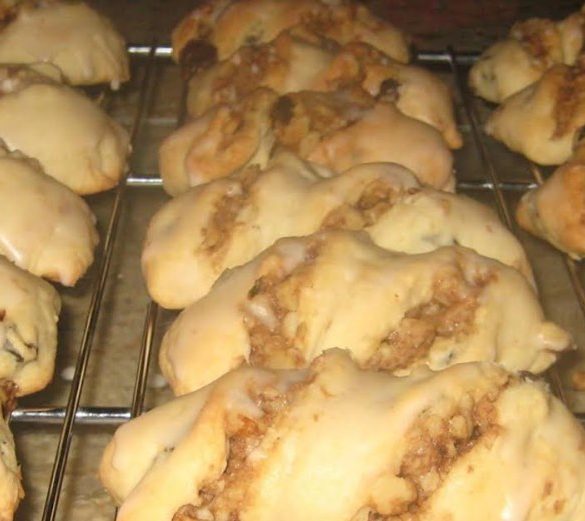 Ingredients
FILLING
5 c walnuts chopped in blender
1 stick butter (room temperature)
1/3 c brown sugar
1/4 tsp maple flavoring (if you can't find maple flavoring, you can use vanilla)
DOUGH
4 c flour
4 tsp baking powder
1 tsp salt
2/3 c butter
1/2 c sugar
2 eggs, beaten
1 1/2 c raisins
1 c milk
ICING (MEASUREMENTS ARE APPROXIMATE)
1 c powdered sugar
2 Tbsp milk
1 tsp vanilla
Instructions
1. Mix all filling ingredients together and set aside.
2. Place flour, baking powder and salt in a bowl.
3. Beat butter and sugar in mixer and add eggs and raisins.
4. Add the flour mixture and milk to butter mixture - alternating.
5. Turn dough onto floured surface. Shape into a ball and cut into four pieces.
6. Roll one piece of dough into a 12 inch log on floured surface. Take a rolling pin and very gently roll the log into a 5" x 12" rectangle.
7. Place 1/4 of the filling along the bottom edge of the dough and fold the top edge of the dough over the filling. Pinch the seems and flatten the rectangle a little with your hands - making a "package".
8. Cut the dough vertically into 1" pieces. You'll wind up with about 12 pieces.
9. Hold each cookie piece in hands and twist twice away from your body. Place on cookie sheet and press the ends of each cookie down onto the cookie sheet.
10. Bake at 350 degrees for 20 minutes. They do not brown.
11. Repeat with other four pieces of dough.
12. Mix icing ingredients in bowl.
13. When the cookies are cool, top with icing. I just use my finger to "paint" the icing on top.
14. Now...(and this is important)...make a cup of tea, take two cookies and sit in your special chair. Eat and sip....or do what I do...dunk and eat. OMG - you will be so happy!!!!!