This is a good peach cobbler – just the right spices and sweetness. You should note however the amount of baking powder – this is a very "cake-like" cobbler. Also, the amount of Cinnamon Sugar on the top makes it very hard to tell when it is "golden brown". "very thin" slices of peach also lead to a less chunky peachy cobbler than I really like, so you may want to make your slices reasonably substantial if you want good sized chunks of peach.
This is the best cobbler I have tasted! Family went nuts over it. Easy, too! I will make this again, for sure. I would include details on peeling the peaches for newbies. Place the peaches in boiling water for about 60 seconds, remove and plunge into cold water. The skins should slip right off.
This recipe is delicious. I have two suggestions to improve it though. First, I used fresh peaches from my boss's peach tree – some of them were quite under-ripe – and the recipe still came out very sweet. I will definitely make this again, but I will use a bit less sugar in the fruit and in the topping. Second, while the topping is super tasty (if a bit sweet), there's not enough of it! It doesn't need to be doubled but maybe 50% more topping would be great.
INGREDIENTS
3 cups Peaches ; peeled and sliced
pinch Salt
1/2 teaspoon Lemon juice
1/8 teaspoon Cinnamon
2/3 cup Sugar
Butter ; as required
1 ea Pillsbury pie crust
instructions next page
INSTRUCTIONS
Put peach slices in a medium sized mixing bowl and add salt, lemon juice, cinnamon, and sugar. Stir and set aside, stirring occasionally to make juice.
Unroll pie crust on a flat surface and set a loaf pan on it and cut the crust around the bottom of the pan, reserving the remaining crust. Rub butter on the bottom and sides of the pan and place the cut out crust in the pan. Bake at 350 degrees until lightly browned and let it cool. Put the peach mixture in the pan on top of the crust and dot with a tablespoon of butter. Use the remaining crust to put on top, cutting to make a laticed top and sprinkle with 1 1/2 tablespoons of sugar and 1/4 teaspoon of cinnamon. Bake at 350 degrees for 30 minutes or until browned on top. Top with ice cream.
I doubled recipe, but only used 2/3 cup sugar total and used 2 big cans of peaches (drained). Will try with fresh peahes when they are in season! have to say that this is my FAVORITE dessert nowadays!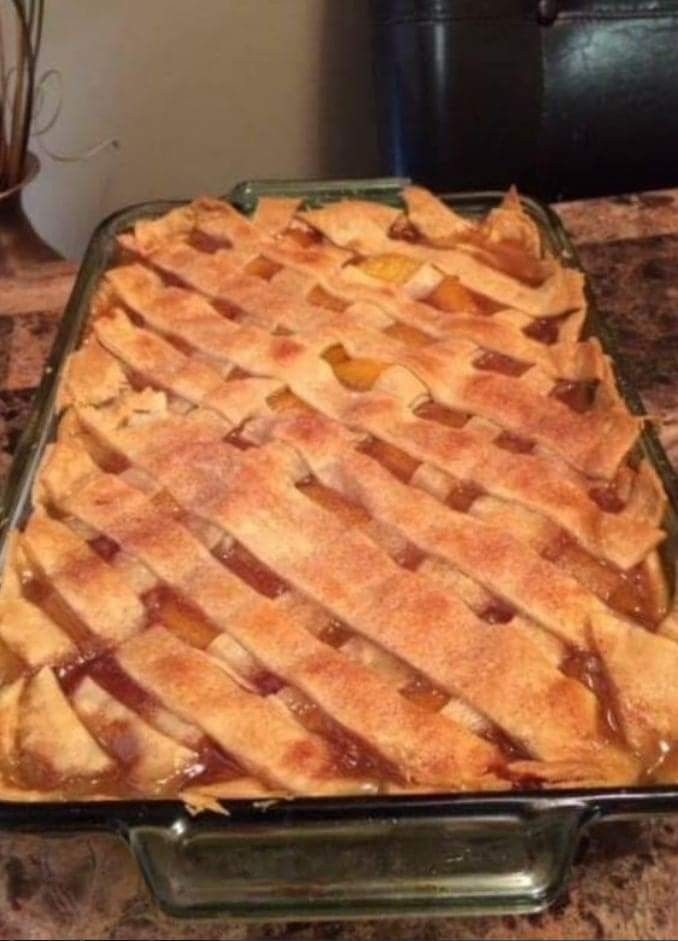 Don't forget to save it for later