If you like Chicken Cordon Bleu, you will love this casserole! This is one of my family's favorites!
What a clever idea. Am so glad I came across this recipe! It makes a ton in the future unless I am entertaining I may have to cut in half. I love Chicken Cordon Bleu it's a guilty pleasure of mine so this really hit the spot for me. I did season it up more added more mushrooms etc. It is extremely rich. I served it as a topping for pasta. I would think it would be extremely rich to just eat as a main course alone. My husband has been begging for me to make this again.
This was a fantastic meal easy to make ingredients that were easy to find. A unique blend of flavors that had everyone coming back for more! I had several requests for the recipe. Only thing I did different was I used sliced (processed) swiss cheese and I did use a bit more parmesan cheese. To say this is a fantastic and impressive meal is NOT doing it justice. Thanks for sharing!
Prep: 20 mins | Cook: 1 hr | Total: 1 hr 20 mins | Servings: 12 | Yield: 1 9×13-inch casserole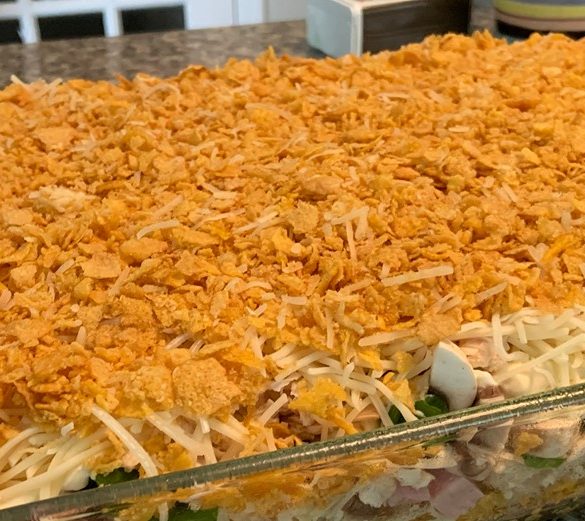 Ingredients
4 cups cornflake crumbs
1 cup grated Parmesan cheese
¼ cup butter, melted (Optional)
10 cooked skinless, boneless chicken breast halves - cut into strips
salt and ground black pepper to taste
6 cups shredded Swiss cheese
1 pound cooked ham, diced
½ pound sliced fresh mushrooms
1 bunch green onions, sliced
1 (10.75 ounce) can condensed cream of chicken soup
1 cup sour cream
2 tablespoons butter, melted (Optional)
Instructions
Step 1
Preheat oven to 325 degrees F (165 degrees C). Grease a 9x13-inch baking dish.
Step 2
Mix the corn flake crumbs, Parmesan cheese, and 1/4 cup melted butter in a large bowl, then spread about 2/3 of the crumb mixture into the bottom of the prepared baking dish. Layer half the chicken breast strips over the crumb base, and sprinkle with salt and black pepper. Cover with half the Swiss cheese, then a layer of ham, followed by layers of mushrooms and green onions.
Step 3
Mix the cream of chicken soup and sour cream together in a bowl, and spread the mixture over the green onion layer. Place the rest of the chicken strips onto the soup layer, followed by the rest of the Swiss cheese. Top the casserole with the remaining 1/3 of the crumb mixture. Drizzle with 2 more tablespoons of melted butter if desired.
Step 4
Cover the casserole with aluminum foil, and bake in the preheated oven for 45 minutes; remove the foil and bake until the casserole is bubbling, the cheese has melted, and the crumb topping is brown, an additional 15 minutes.
Notes
To save time, I buy the fully cooked chicken breast strips and diced ham to use instead of preparing my own.
Nutrition Facts
Per Serving:
684 calories; protein 50.4g 101% DV; carbohydrates 35.2g 11% DV; fat 37.8g 58% DV; cholesterol 163.4mg 55% DV; sodium 1192.5mg 48% DV.