This is my grandmother's macaroni and cheese recipe that we all crave and only get to have twice a year, if we play our cards right. Fairly simple and straightforward. The key is cooking time more than anything.
Prep: 15 mins
Cook: 33 mins
Total: 48 mins
Servings: 20
Yield: 20 servings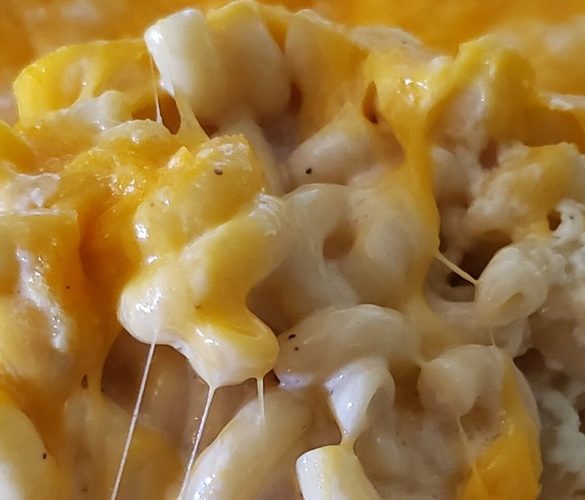 Ingredients
1 pound elbow macaroni
4 pounds Cheddar cheese, sliced
1 ½ cups milk
5 eggs, or more to taste
1 tablespoon yellow mustard
ground black pepper to taste
Instructions
Step 1
Preheat oven to 300 degrees F (150 degrees C).
Step 2
Bring a large pot of lightly salted water to a boil. Cook elbow macaroni in the boiling water, stirring occasionally until tender yet firm to the bite, 8 minutes. Drain.
Step 3
Layer some of the macaroni in a 5-quart baking dish; top with a layer of Cheddar cheese. Continue layering macaroni and Cheddar cheese into the dish, ending with a Cheddar cheese layer.
Step 4
Beat milk, eggs, and mustard together in a bowl; pour over macaroni mixture, ensuring milk mixture gets to all of the macaroni.
Step 5
Bake in the preheated oven until cheese is melted and just before cheese around the sides gets crisp, 20 to 25 minutes. Season with black pepper.
Nutrition Facts
Per Serving:
478 calories; protein 27.8g 56% DV; carbohydrates 19.1g 6% DV; fat 32.1g 49% DV; cholesterol 143.3mg 48% DV; sodium 599mg 24% DV.