Get ready for a taste sensation with this Creamy Tortellini with Spinach & Tomatoes recipe! This dish is so satisfying and comforting that you won't resist going back for seconds. The cheese tortellini is cooked to perfection, and the creamy sauce is simply out of this world.
Combining juicy petite diced tomatoes, garlicky spinach, and aromatic herbs creates a truly delicious dish. With every bite, your taste buds will be bursting with flavor. The creamy sauce made with flour and half-and-half adds a rich and velvety texture to the dish, and the grated Parmesan cheese provides a tangy and salty finish.
The best part is that this dish is versatile, so you can customize it to suit your taste buds. Add in some sautéed chicken breast for extra protein, top it off with extra cheese or add some sliced mushrooms for extra veggies. This Creamy Tortellini with Spinach & Tomatoes recipe is perfect for any occasion, and it's easy to make for a quick weeknight dinner or to impress your guests. Don't miss out on this mouth-watering dish!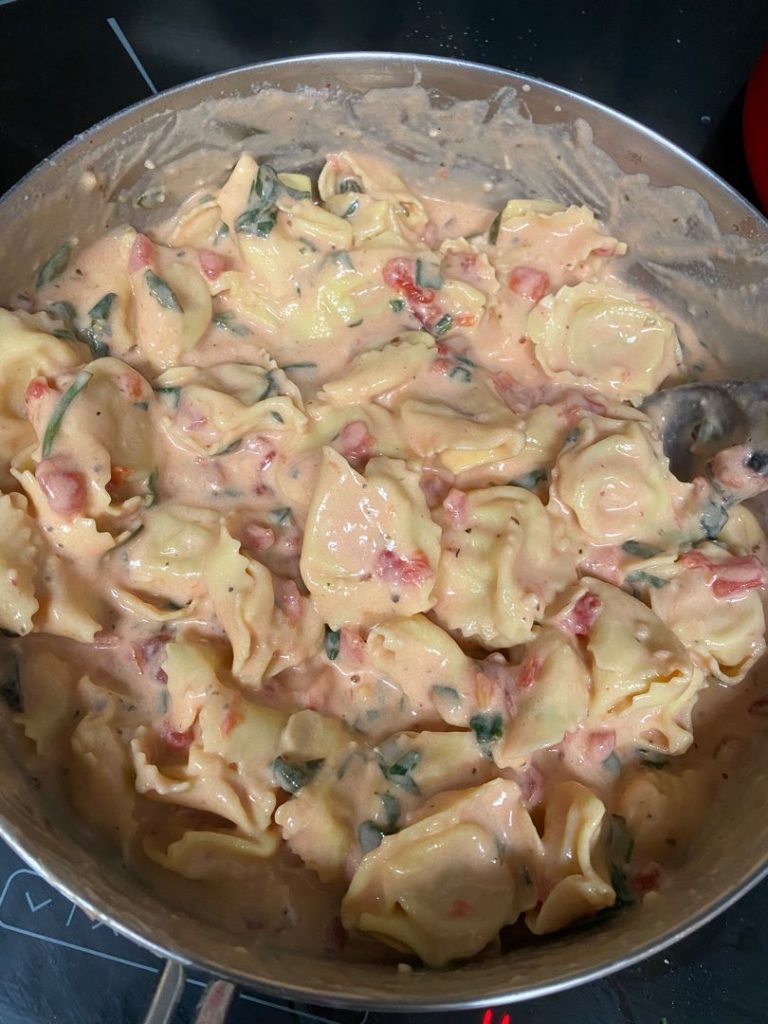 Prep Time: 5 minutes
Cook Time: 15 minutes
Total Time: 20 minutes
Servings: 6
Ingredients:
1 lb cheese tortellini
1 tbsp minced garlic
1 cup chopped fresh spinach
1 can (14.5 oz) petite diced tomatoes
1/2 tsp salt
1/4 tsp black pepper
1 1/2 tsp dried basil
1 tsp onion flakes
2 tbsp all-purpose flour
1 1/2 cups half-and-half
1/4 cup grated Parmesan cheese
Instructions:
Cook the cheese tortellini according to the package instructions until al dente. Drain and set aside.
Heat a large skillet over medium heat, add minced garlic and sauté for about 30 seconds until fragrant.
Add the diced tomatoes (with their juice), chopped spinach, salt, black pepper, dried basil, and onion flakes to the skillet.
Cook and stir over medium-high heat until the mixture begins to bubble.
In a small bowl, whisk together the flour and half-and-half until well combined.
Add the creamy mixture to the skillet along with the grated Parmesan cheese. Stir until everything is well combined.
Reduce the heat to medium-low and continue to stir and cook until the sauce thickens, about 5 minutes.
Add the drained tortellini to the skillet and gently mix with the sauce.
Serve hot and enjoy!
Notes:
For a heartier meal, you can add some sliced and sautéed chicken breast to the dish.
Top with additional grated Parmesan cheese for extra flavor.
For extra veggies, sliced mushrooms are a great addition to this dish.