Want to learn how to make Crab and Cream Cheese Snacks? Get the best easy recipes for Crab and Cream Cheese Snacks from Calorie Count.
These Crab and Cream Cheese Crescents combine a creamy crab filling with a rich and flaky dough! They make the perfect appetizer and are easy enough for a special after-school snack.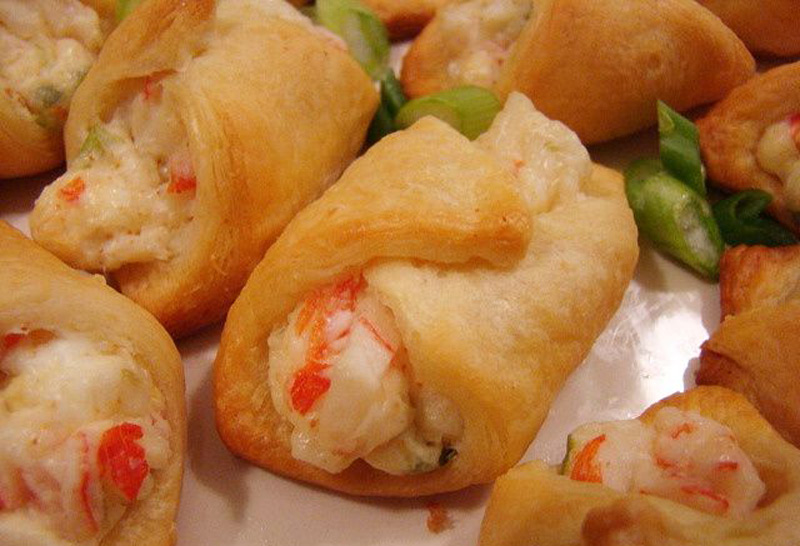 Here are a few extra recipe tips:
You can substitute low-fat cream cheese and low-fat mayo in this recipe.
You may want to lightly flour your rolling pin before rolling the crescent dough, just to prevent any sticking.
This recipe makes enough for 24 rolls, so avoid over stuffing each crescent roll square.
To Make this Recipe You'Il Need the following ingredients:
Ingredients:
1-8 oz. tube crescent roll dough
3 oz. cream cheese, softened
1/4 cup mayonnaise
3/4 cup cooked crabmeat, choppe
2 green onions, chopped
1/8- 1/4 teaspoon cayenne pepper
salt and pepper, to taste
Instructions:
Heat oven to 375°F. Spray cookie sheet with cooking spray. Unroll dough on work surface. Pinch seams to seal and roll with a rolling pin to create an even rectangle. Cut into 6 rows by 4 rows to make 24 squares.
In small bowl, mix cream cheese, mayo, crabmeat, onion, and red pepper. Salt and pepper to taste. Divide crab mixture evenly among the squares, dropping it by spoonfulls that are 1/2 inch from 1 corner of each square.
Starting with same corner, fold dough over filling, and tuck end tightly underneath filling; continue rolling to within 1/2 inch of opposite corner. Roll opposite corner of dough over roll; press to seal. Place on cookie sheet. Brush with egg white, if desired.
Bake 10 to 15 minutes or until golden brown. Remove from cookie sheet. Serve warm.