After trying multiple spinach recipes throughout the years, this one is my conglomeration with personal taste additions. Savory and delicious using primarily fresh ingredients. A new family favorite. Shiitake mushrooms can be substituted for other varieties. Broccoli can be omitted per personal taste.
Great recipe! The shiitake mushrooms were fantastic. I also added a bit of goat cheese that I had lying around and needed to use up. It was a good idea!
Prep: 20 mins | Cook: 35 mins | Additional: 5 mins | Total: 1 hr | Servings: 6 | Yield: 1 9-inch quiche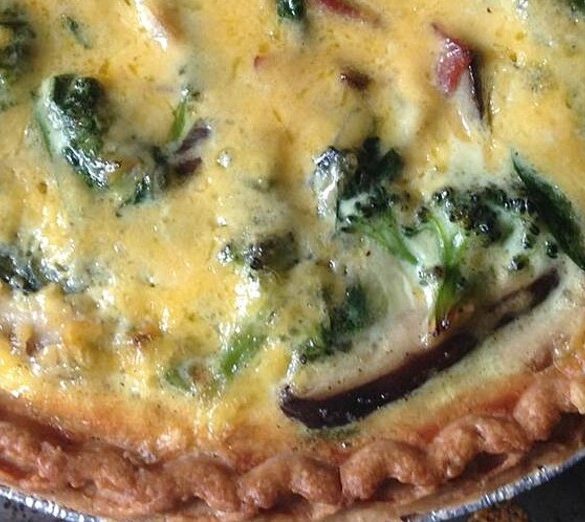 Ingredients
1 prepared 9-inch single pie crust
¼ cup butter
1 bunch green onions, chopped
3 cloves garlic, chopped
1 slice turkey bacon, cut into 1/2-inch pieces
1 (9 ounce) bag fresh spinach
1 (3.5 ounce) package shiitake mushrooms, sliced
½ cup chopped broccoli florets
¼ cup shredded sharp Cheddar cheese
4 eggs, beaten
¾ cup milk
½ teaspoon sea salt
½ teaspoon black pepper
½ cup shredded sharp Cheddar cheese
Instructions
Step 1
Preheat oven to 375 degrees F (190 degrees C).
Step 2
Fit pie crust into a 9-inch pie dish.
Step 3
Melt butter in a large skillet over medium heat; cook and stir green onions and garlic until green onions are softened, about 5 minutes. Cook and stir turkey bacon in the green onion mixture until fragrant.
Step 4
Stir spinach, shiitake mushrooms, and broccoli into green onion mixture; cook and stir vegetables until softened, 5 to 7 minutes. Mix in 1/4 cup Cheddar cheese.
Step 5
Spoon vegetable mixture into the pie crust.
Step 6
Beat eggs, milk, sea salt, and black pepper together in a bowl; pour egg mixture gently over vegetable filling, slightly stirring eggs into the filling to combine.
Step 7
Bake in the preheated oven for 15 minutes; sprinkle 1/2 cup Cheddar cheese over the top of the quiche and bake 10 additional minutes. Cover quiche with aluminum foil and bake until quiche has set and a toothpick inserted into the quiche comes out clean, about 10 more minutes.
Step 8
Allow quiche to cool for 5 minutes before serving.
Nutrition Facts
Per Serving:
381 calories; protein 13.7g 27% DV; carbohydrates 21.9g 7% DV; fat 27.2g 42% DV; cholesterol 164mg 55% DV; sodium 574.5mg 23% DV.